Made to Measure...
For the last word in bespoke menswear outfitting, Charles Richard offers fine quality suits expertly tailored for you by some of the country's most regarded manufacturers, including the superb suits hand-tailored by Magee of Northern Ireland.
We offer that rare combination of personal service and traditional levels of quality and attention to detail, to guarantee absolutely that you will look your very best - whether for a wedding or other special occasion, or for home or office.
Choose from a variety of stylish and fashionable cloths and suit styles: our summer weight fabrics are comfortable mid year whilst our heavier wool suits are just the thing if there is a wintry nip in the air.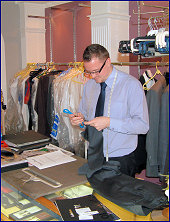 Charles Richard will advise you about the various styles that are available, as well as helping you to decide about the finishing touches such as pockets, buttonholes and cuffs - those traditional details that set your bespoke suit apart from an ordinary mass-produced version.
All customers receive a personal fitting session and an appointment for a Made To Measure suit can be made by contacting us. It is best to allow up to six weeks for your handmade suit to be delivered and fitted, especially during busy wedding periods. However in urgent cases we will do our best to deliver your suit at shorter notice.
Don't forget that we can supply a full range of accessories that will complement your new suit perfectly!
To make an appointment for a personal fitting please call now
on 01724 867856 (daytimes) or E-mail info@charlesrichard.co.uk any time.