Formal Hire...
Charles Richard of Scunthorpe can meet all your menswear hire requirements for Morning Wear, Wedding outfits for the Groom, Best Man and family. Lounge suits are available for hire along with a range of classic Evening Wear for Men, to make you look and feel really special at those formal events. Our competitive hire rates mean that you can just pay for your outfit when the occasion demands.
Morning wear in various colours:
Tailcoat suits
City jackets
Frock-coat suits
Nouveau Coat Suits
Edward Coat Suits
Evening Wear:
Dinner suits (single or double breasted)
White Tuxedo and black trousers
White tuxedo only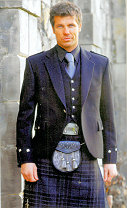 Highland Wear for Men and Boys is also available in a range of plaids. Our Prince Charlie formalwear outfit includes jacket, waistcoat, Kilt with kiltpin, dress sporran and chain, Hose, Garter flashes, Skean Dhu and Ghillie shoes.
Evening Wear for Men offers single or double breasted dinner suits, or White tuxedo as desired. Don't forget one of our fancy Waistcoats in a super selection of contrasting or complementary brocades. Boys' wear - tailcoat and Edward coat suits in various colours.
Wedding Accessories by Etiquette for Hire - shirts, gloves, cufflinks, cravates, ties and of course Top Hats - everything you need to finish your wedding outfit to perfection.